This Is the Best Sector for Options Trading in 2018
Posted On March 15, 2018 1:47 pm
By: admin
---
While 2017 was one of the smoothest markets in recent history, 2018 has been the exact opposite. So, how can an investor make consistent options tradingprofits in such an environment?
According to Money Morning's options trading specialist, Tom Gentile, the best sector to target with options trading now is the technology sector.
Many people think of high tech as the high-risk sector where companies with no sales hawk their shares. But that's just not true.
Yes, there is some risk with many tech companies, but that's not where we look for our triple-digit wins. According to Gentile, when this type of volatility arises, look for the sector or sectors that boast consistent price patterns.
No matter the size, there are tech stocks with superior long-term performances and world-changing products and services.
How do we know if a stock or sector is one of those big market leaders? It's simpler than you might think. Simply compare its performance to that of the broader stock market. The ones with bigger percentage price gains relative to the market are your leaders.
Investors will rightly point out that such analysis looks back in the past. It tells us which stocks already beat the market.
However, when it comes to trends and performance, the past does go a long way to predicting the future.
While nothing is guaranteed, studies show that strong relative performance tends to lead to continued strong relative performance. In other words, in the stock market, strong stocks tend to stay strong. They hold up better when the market pulls back, and they move back into the lead quickly when the market resumes its advance.
The converse is true for weak stocks. Laggards tend to keep lagging, which is why we don't invest on a wing and a prayer. General Electric Co. (NYSE: GE), for example, is not going to suddenly reverse course and turn into a top-notch business with superior management after literally years of deterioration.
This is why Gentile targets the tech sector. It led the market last year, and it leads the market this year, even after January's big tumble. In fact, the tech-heavy Nasdaq is the only major market index that completely shook off the correction and moved back into all-time high territory.
Take a look at how each major sector performed this year to date relative to the S&P's 500.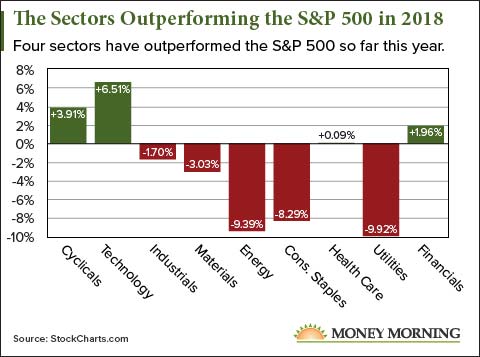 A relative performance calculation is simply the ratio of the price change of the sector to the price change of the SPX over that span of time. As you can see, technology beat the market by 6.51% this year so far. That is why Gentile likes it so much.
But how do we turn that information into market-beating profits? Here's Gentile's complete breakdown.
The Best Sector-Specific Options Trading Strategy to Use Now
Given that tech led the market this year – and, by the way, it was the top sector over the past month, three months, six months, and one year – we want to focus here for sure.
The simplest way is to use bullish call strategies on the S&P 500 Information Technology Sector SPDR exchange-traded fund (NYSE Arca: XLK).
You can use any of his strategies, from buying call options to bull call spreads or the "loophole trade," as he calls it, which cuts down on risk.
The point is to target the strongest and most reliable sector and take bite after bite out of it. Control your risk, and ride it as long as it remains in the lead.
*This has been a guest post by Money Morning*
About author
Subscribe To OurDaily Newsletter
Join our mailing list to receive the latest news and updates from Option Sensei.
You have Successfully Subscribed!
Archives