Iran Conflict: The Top 3 Defense Stocks to Watch
---
While an escalation of conflict with Iran and across the middle east would be largely negative for the stock market there are a few sectors that would stand to benefit. The top being defense stocks that supply the military as the Pentagon's budget is set to hit a record of $750 billion in 2020.
It comes in the form of the discretionary budget is $686.1 billion. It has also been described as $617 billion for the base budget and another $69 billion for war funding." This is shy of the $2 trillion President Trump mentioned in his tweet but it's clear that he intends to get as much money as he can from Congress. Many of the stocks have already posted big gains not just over the past few days but have enjoyed a strong performance over the past year or two. The iShares Aerospace and Defense ETF (ITA), has gained some 45% over the past 52 weeks.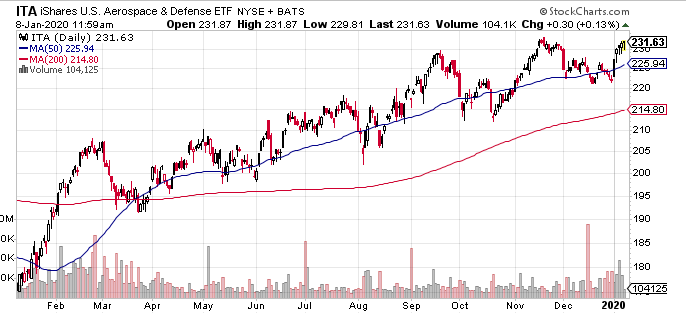 While the ITA is a good way to get broad exposure to the sector I think some individual names offer more upside.
Here are my top three picks:
L3Harris Technologies (LHX)  provides technology-based solutions that solve government and commercial customers' mission-critical challenges.  More specifically focuses on communications systems including single channel ground and airborne radio systems, multiband manpack and handheld radios and airborne radios.
Obviously secure communications are crucial for surveillance, reconnaissance and general mission control.  L3 Harris also has cutting edge technology geospatial, earth observation, and information analytics for national security. The company grew revenue by 42% in 2019 and is expected to add 46% in 2020 yet trades at a reasonable 17x forward p/e and offers a decent 1.45% dividend yield. The stock has been range-bound for most of the past year but appears ready to break out to new highs as it comes back on investors' radar.
My next pick is Huntington Ingalls Industries ( HII). engages in the designing, building, overhauling, and repairing military ships.  The company is involved in all aspects of the Navy and Coast Guard's fleet; from the design and construction of every type of ship from basic cargo to cutting edge nuclear-powered ships, such as aircraft carriers and submarines.
It currently has… Continue reading at StockNews.com