Is the Stock Market Finally Bouncing Back?
Posted On March 6, 2023 10:23 am
By: admin
---
Market Commentary
The past two days have seen a few positive catalysts that kicked things into a positive direction and pushed shares back above 4,000 (although we still have a ways to go before we retest the important 4,100 level).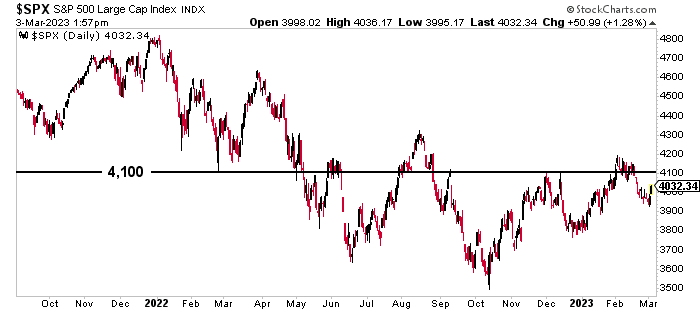 First off, the 10-year Treasury yield also dropped below 4%, which was a positive sign for the market.
The PMI data for February also had traders' attention. PMI improved to 50.6, beating analysts' consensus of 50.5. ISM Non-Manufacturing PMI went down from 55.2 to 55.1, but still managed to exceed expectations.
According to Andrew Hunter, Deputy Chief U.S. Economist at Capital Economics, the figures suggest that the economy is growing, but not as fast as some people were thinking.
Most market segments, especially Consumer Cyclical and Real Estate stocks, had a good day, except for Consumer Defensive stocks, which didn't see much upward movement.
This indicates traders are still in "risk on" mode, which means they're willing to invest in more volatile assets right now. That's great for our stocks under $10.
If the S&P 500 (SPY) stays where it is, we'll have a positive week, which is a…
Continue reading at STOCKNEWS.com